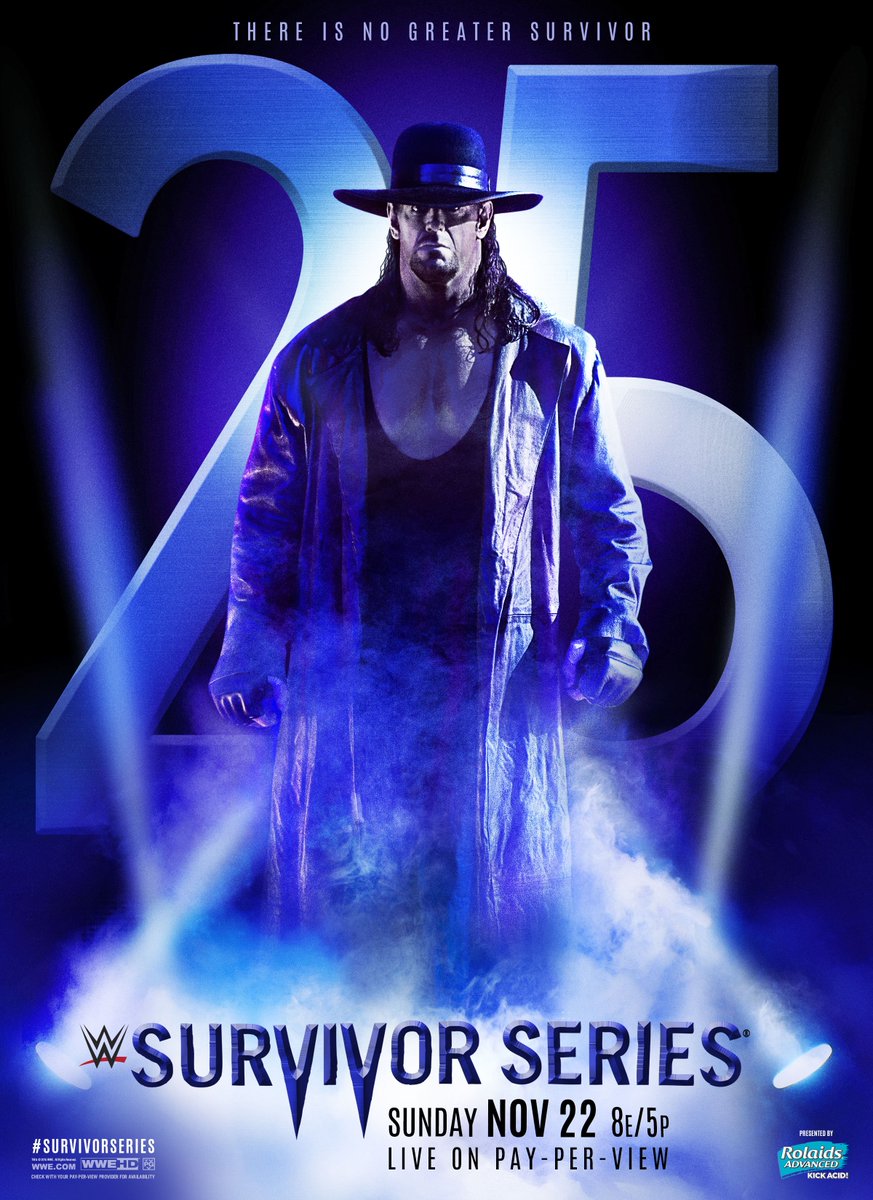 By Frank Lucci
Survivor Series was once one of only four Pay-Per-View events the WWE (then WWF) put on per year. With the unique elimination tag team setup, Survivor Series became a must-see Thanksgiving event.
However, with Money in the Bank supplanting Survivor Series in importance the event has struggled to live up to it's own reputation.
With last year's Team Cena vs Team Authority main event (and the debut of Sting) helping breathe life into the PPV, this year's edition of Survivor Series seeks to up the ante with a celebration of The Undertaker's 25 year career and the crowning of a WWE World Heavyweight Champion after Seth Rollins' knee had enough of wrestling Kane and promptly  self-destructed.
But with WWE's uneven booking, even these high-profile events have felt fairly lackluster and the mid and lower card matches faring even worse. With that in mind, here are Spaceman Frank's Survivor Series 2015 predictions.
Traditional Survivor Series 5 on 5 Tag Team Elimination Match (Who the Fuck Knows vs. Are We Supposed to Even Care?)
The WWE has announced a traditional Survivor Series match for this event but has given zero clues as to who will be involved, thus making this a clear time waster for a PPV.
If I had to wager a guess I would say this will be a face versus heel match that means fuck all but will be entertaining with the right talent involved.
My dream scenario is The New Day (who appear to be not defending their Tag Team Titles on the show) teaming with Sheamus (again, who has nothing going on despite being Mr. Money in the Bank) and King Barrett taking on Cesaro, Neville, The Dudley Boyz and Ryback. Regardless of who are on these teams, considering how little build this match has gotten expect the faces to win.
Dolph Ziggler vs. Tyler Breeze (with Summer Rae)
A natural pair of rivals, this match will hopefully serve as an impressive PPV debut for Breeze, who could use a win after losing to Ambrose in the Deadly Games 2: Electric Boogaloo tournament. Hopefully WWE writers have learned from NXT that an aggressive Breeze is the best Breeze and have Prince Pretty take it to Dolph and pick up the win. With Summer Rae having feuded with Ziggler in the past (and seeing his junk) it makes sense for her to help get Breeze a win that kick starts a feud that goes smoother than Ziggler vs Rusev did.
Charlotte (c) vs. Paige (Divas Championship Match)
First off, this match has been overshadowed by the controversial segment that finished the go-home edition of Raw where Reid Flair's untimely death was brought up. While I personally have nothing against bringing a wrestler's personal life into a storyline if they and their family is fine with it, this does not look like the case here. Both Ric Flair and Reid's mother have said they were not aware Reid's death would be put into the story, which is a major oversight of Charlotte and the WWE's part.
It should also be noted however that Charlotte has been very vocal in different interviews and WWE programming that it was Reid that convinced her to try pro wrestling and considers her career a tribute to her late brother; so perhaps it should be less shocking to fans that he was mentioned on Raw. Jim Ross pointed out on his website this has lead to people talking about Reid Flair and not Charlotte versus Paige.
As for the actual match between the two, I see Paige upsetting the champ and winning the belt. Although Charlotte has been wrestling very well since coming to the main roster, she seems to be uncomfortable with the title and spotlight on her and may need to spend more time as challenger than champion.
WWE World Heavyweight Championship Tournament
Roman Reigns vs. Alberto Del Rio w/ Zeb Colter (Semifinal)
Kevin Owens vs. Dean Ambrose (Semifinal)
Rather than predict the two semifinal matches separately I've decided to lump them together because the outcomes seem fairly obvious.
Long story short: Reigns looks destined to be champ and Del Rio already has the Gob Bluth "I've made a huge mistake" look in his eyes. Reigns wins and hopefully nukes Mexamerica out of existence.
As for Owens vs. Ambrose (which should be match of the night), as tempting as it is to say Owens gets the sneaky win for a heel vs. face final; it's extremely unlikely. Owens already has the Intercontinental Championship and can serve as the de facto top heel of the company – but only if there is no heel turn to end the night. Which brings us to…
Roman Reigns vs. Dean Ambrose (Tournament Final for Deadly Game 2: Electric Boogaloo)
It seems clear from the moment the WWE revealed the bracket for the tournament this match would be destined for the final.
Hell, if not for Kalisto's upset win over Ryback most would still have a perfect bracket.
That being said, who walks out champ is a much murkier outcome.
Will Vince insist that Reigns, tall, dark and handsome as he is, walks out as a babyface champ? Will the WWE realize that nobody is going to pick Reigns over Ambrose (considering Reigns was literally handed the belt by Triple H before the tournament started while Ambrose has served as Reign's second banana since the summer and makes for a much more interesting underdog babyface story)? Will Ambrose turn heel? Will Reigns turn heel? Will Paul Heyman show up regardless of winner and declare that Brock Lesnar will challenge for the title? Will John Cena burst through the wall like the Kool-Aid Man to remind everyone that you can't be the man until you beat the man? Will Big Show ruin everything like he always does? Will Triple H just say "Fuck it" and declare himself champ? Will the WWE go back to the well and have a legend show up to save the day? Is that legend Rick Steiner?? BY GAWD MAGGLE WHO KNOWS!!!
…But seriously it is probably going to be Reigns and we will have to accept that.
The Brothers of Destruction (The Undertaker and Kane) vs. Two Members of The Wyatt Family (Bray Wyatt and Braun Strowman)
What could have been all of the Wyatt Family taking on two legendary figures and two guys who get instant credibility by standing with them somehow got turned into a normal tag match.
This is better how?
With 'Taker and Kane's combined 98 years of age having to take on Wyatt and the big-ass strongman this figures to be a "methodical" (i.e. slow) match. The crowd will be into it because The Undertaker is actually wrestling on two PPV's in a row, but what was a easy layup for WWE creative has been fucked up by a combination of lazy writing and the fact that FOR FUCK'S SAKE IT'S SURVIVOR SERIES PEOPLE EXPECT A TEAM ELIMINATION MATCH.
Hopefully the Wyatt's win because we have yet to see Strowman do much besides stand around and Bray simply can't keep getting pinned by every babyface on the roster. Plus if Taker (and also Kane) are truly retiring soon, then they owe it to the WWE to actually put over somebody who works for the company full time.  If they can't be bothered to find two worthy wrestlers to team with, then they can lay down for two wrestlers who can use their rub.